Instructions for Poster Presentations
Each poster should have a blank space 5cm in height x 15cm in width on the top of the left hand side, and fit within the dimention of the poster board: 180 cm height x 120 cm width.


Place the title, then the author's names, affiliations, cities, and countries on the top of your poster.
Underline the name of the presenter. The poster number will be provided in advance on the board.


Posters must be in English and include introductory and summary sections.
The letter size and material should be large and legible to aid easy recognition.
The use of colors and figures/tables are both recommended.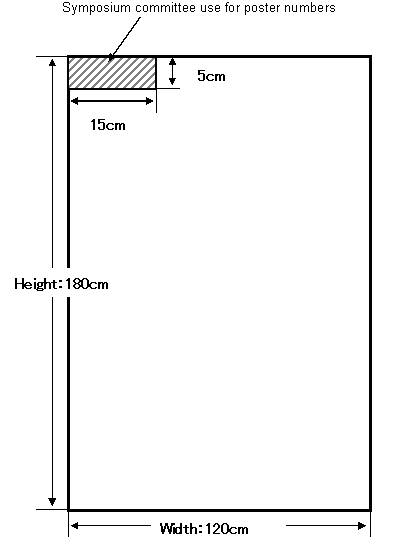 Poster Display and Discussion
Poster presentation will be held on the 2nd floor in Tower Hall Funabori.


All posters should be presented throughout the symposium, Oct 29 to Oct 31.
Poster presenters are requested to mount and remove their posters by the following hours:

Mounting: by 13:00 on Oct 29, 2008
Removal: by 13:00 on Oct 31, 2008

Please note that posters not removed by the end of this period will have to be discarded by the staff of the symposium.


Display your poster on a board labeled with your poster number which has been assigned to you by the Program Committee. Pushpins will be available on site.


Program was fixed, please look at program file. Presenters should wear a ribbon provided on the poster board, and stand in front of their posters during the period scheduled for their presentation (90 min).

Poster Presentation
[Odd number] October 29 (Wednesday) 17:00-18:30
[Even number]  October 30 (Thursday) 16:15-17:45